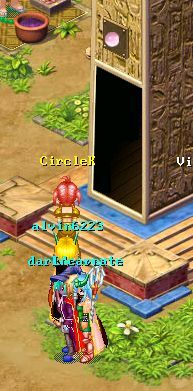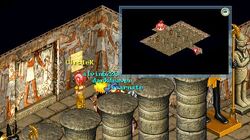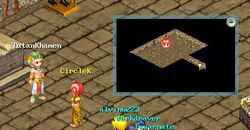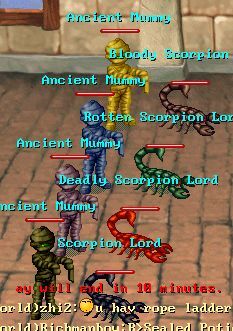 Quest: TutanKhamen's Sanctum
Area: Cairo, Egypt
Location: X:1242 Y:1350
Prequests: Egyptian Acrobatics Group, The Stranger never Eats and drinks, I Want to Go Home, Adventure on Mars
Items Needed: Mars Aerolith
Goto the Tower the Acrobats where in front of. Place the Mars Aerolith into the Tower. A Door appears. Go Inside then thru top doorway. Follow hallway up. Go look at paper on wall near exit to next room. Push all the pillars down into the floor to open doorway. Go inside and go up hallway. You will see TutanKhamen standing there. Talk to him and he has a test for you. Fight the battle and win. You are now the proud owner of a 14% Critical Hit weapon. You get to choose between a Wand or Halberd. Before you leave this room goto the Chest on the Left and get you a Free 2.5 Holy EXP Potion.
Battle starts with 4 mummies and 4 Scorpians. All have descent hp like 28k for mummies and 15k for Scorpians. The Wind Mummy has around 550-600spd. The Water mummie does Sleep, Fire does Mess and Hot Fire, Earth does Stone Wall and Terrafiction, and the Wind does Coma. All know a Magic Spell. When you kill off Mummie another lesser mummie spawns back with like 1-1.5k hp. The scorpians do normal scorpian attacks. When you kill them off each scorpian spawns back a Guardian with 32k hp and Strong Physical attacks. When you kill off the Guardian it spawns a lesser scorpian back with 800-1.5k hp.


Reward: 15% EXP Capsule, Thut's Wand or Acuminate Halberd
Community content is available under
CC-BY-SA
unless otherwise noted.